Polygon, 5 sided star with spiral by Minaz Jantz
Geometry design & learning how to make a variety of spiral patterns by creating on tracing paper using a pencil, first drawing out the golden triangles, rectangles, squares, and circles as the main structure for spiral design elements.
Spiral Designs from Golden Measurements:
One of the drafting tools I use is a
drafting compass to mark measures from my ruler
then using a clear view drafting triangle, I join the construction marks with a pencil. Once I have created my desired shapes, I will erase with a white eraser all the construction marks to finish with a black felt tip marker pen sometimes freehand copying, and other times redrawing with a ruler for straighter edges.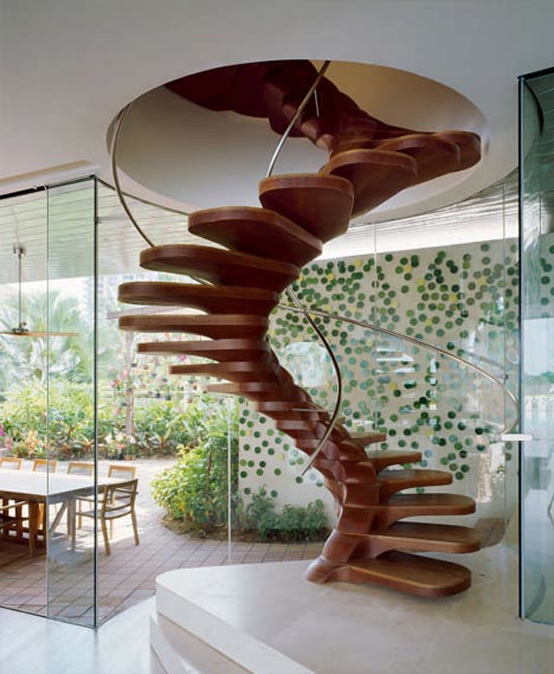 Spiral staircase
Spirals have always been a fascination as a design element in everything from seashells to
architecture
. I like to design rooms that make us move into and out of a spiral and my favorite feature,
spiral staircases
that saves room and opens the upper and lower spaces so beautifully.
The Nautilus Shell is called a logarithmic spiral and is used by many cultures in fashionable adornments to symbolize magical properties of expansion and renewal. For a man to use the spiral shapes to build upon, we must learn to build the various spiral shapes, starting from a variety of golden phi rectangles, squares, and triangles.
Spider webs, shells, animal horns, and pine cones are only a few examples of a natural spiral, and here is an architect who designed a house in the
shape of a shell...
I wonder if they can hear the ocean waves?
HOW to videos on making spiral designs!
Learning to draw spirals is the last set of my lessons from the textbook 'Universal Patterns; The Golden Relationship: Art, Math, & Nature' by Martha Boles & Rochelle Newman. It was the most fun to learn the different ways to create a variety of spirals and one of my favorites is the Fibonacci spiral demonstrated in the above youtube video.
Golden triangle, rectangle
and circle spiral design by Minaz Jantz
'Indigenous Spell',

Copic Markers on Bristol Paper
I really enjoyed learning about golden mathematics and how much fun it is to use these individualistic shapes to also mix them together making unique works of art. The black and white is very dynamic for this style of art-making but will look forward to challenging color with the geometry.
Spiral Inspired, Minaz